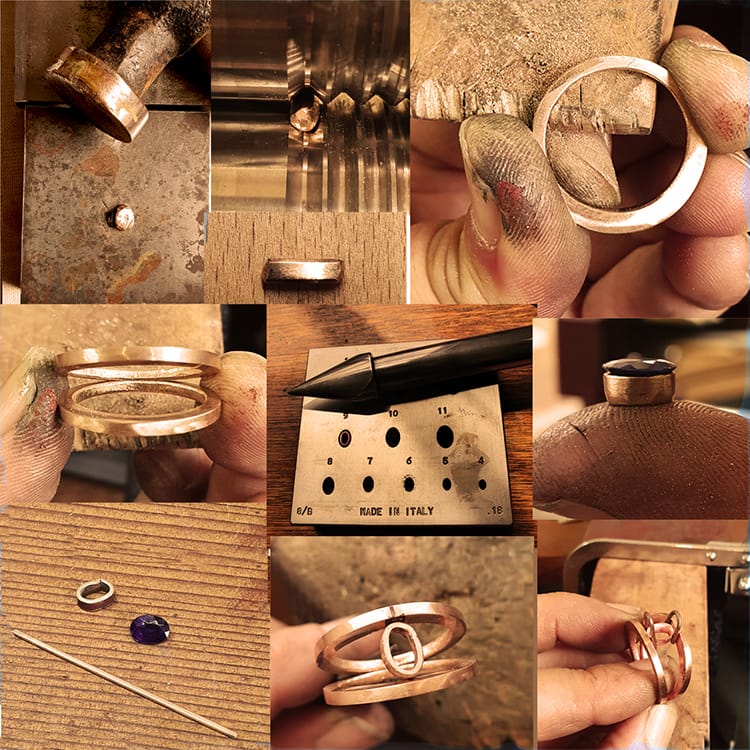 Don't be daunted, we're nice and it's a pretty fun process!
We're not fancy, we are just here, in our creative studio, welcoming you in to create beautiful, ethical heirlooms. We see you, not dollars. We listen to your ideas and respect the sentimentality of the occasion.
Creating a bespoke piece, the process in a nutshell:
1. Share your inspiration / examples / images of rings you like / sketches (you don't need to be picasso!)
2. Free consultation (zoom or in person).
3. 25% deposit gets us started on sketching some initial ideas.
4. Approve the quote and design, another 25% deposit is paid.
5. Approximately 12 weeks to make.
6. Pick up your amazing ring and shower us with gratitude.
7. Resize if needed (often after the proposal 😛 ).
All styles and budgets are catered for or if you see something you like in the gallery or the shop but would prefer it in a different metal or with a different gem you can simply contact us for a quote.
Starting the conversation about design, gems and budget.
This can be a little nerve-wracking to some and we get it, there's a lot of jargon and unknowns here.
You may have a distinct idea in mind of what you'd like, or you may be commissioning an engagement ring for someone and not know where to start at all. We can help!
We'll chat to you about ideas, either in person at either of the studios or via email/zoom. We'll cover colours, gems, budgets and get a feel for what you are looking for.
We'll give you an idea of costs and options to suit your budget.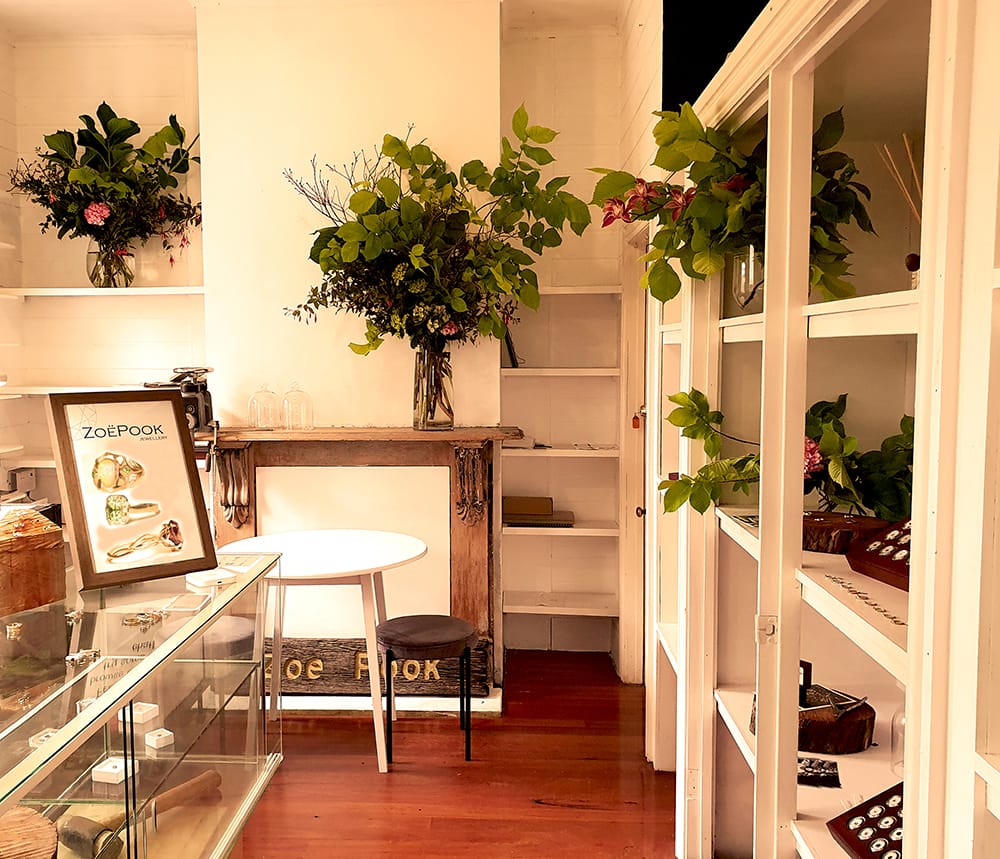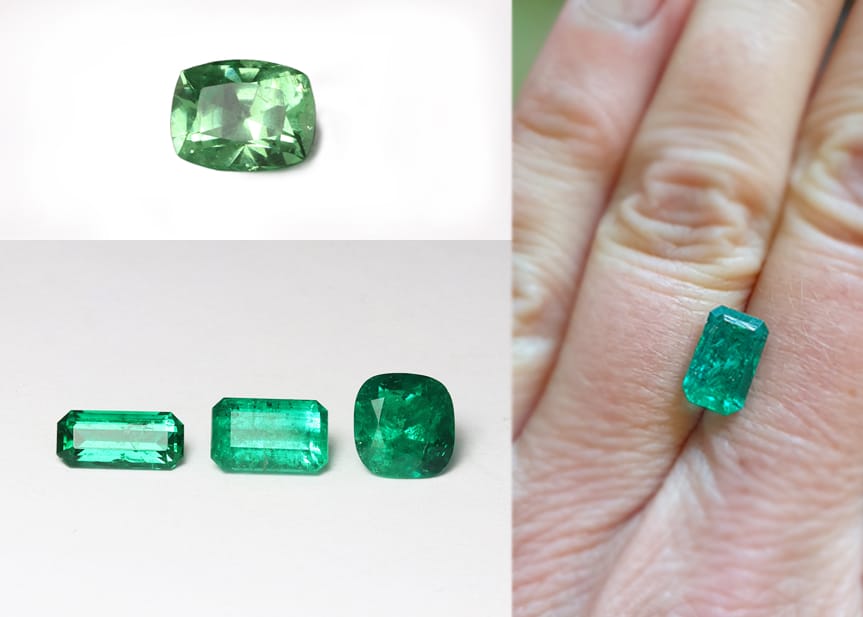 Gem Selection.
We're here to help with the whole gem selection process. You'll probably have a colour or gem type in mind, and if not, that's ok too. Drooling over gems and deciding what you like is all part of the fun.
We have a selection of ethical gem suppliers where we purchase our gems  and we'll contact them to find some options for you to choose from. We can send you photos and videos of the gems or you can come into the studio and see them yourself.
Finalising the design.
After the basic design is finalised, we'll back and forth with you until you are 100% happy with the final version.
We can create a mock up of the ring using the elements chosen so far which helps to visualise the final product and also assists with decisions.
There is also the option of having a CAD (computer animated design) rendering of the design which gives a perfect 3D image for you to view and approve or suggest changes. A CAD rendering is an optional extra cost, but our own sketches and mock ups are part of the design process we offer.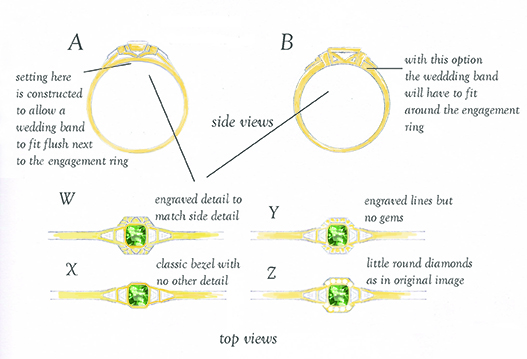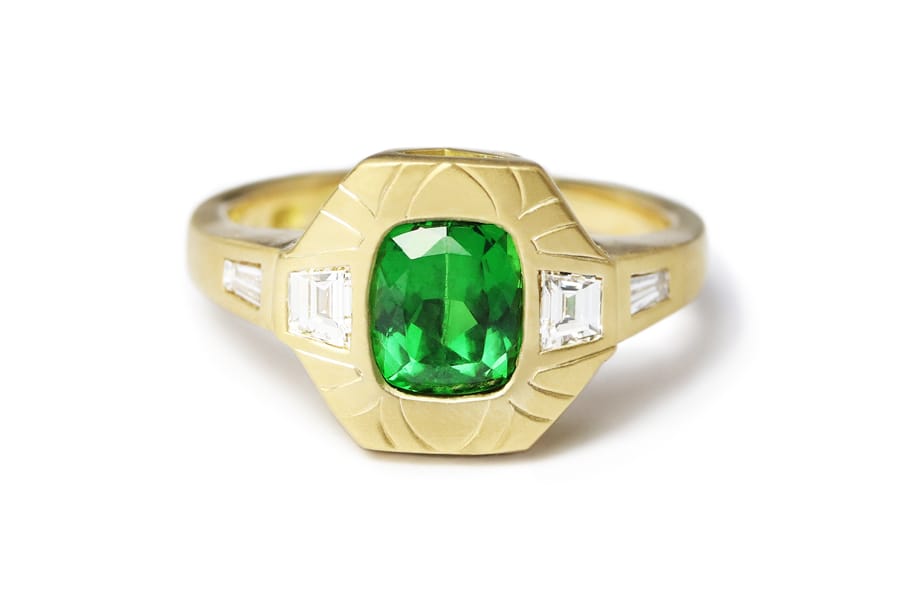 Time to collect your beautiful piece!
The most exciting part is seeing all the ideas finally come to life.
It's such a pleasure working with our clients from the beginning and then being able to deliver the beautiful finished piece. Off to be admired, proposed with, married with or gifted to someone special.
Who knows how many generations a piece of jewellery will be handed down to, or what lifetime of stories they will be a part of!
That's not the end though. We don't just cast you out into the world to fend for yourself. We'll check in with you to make sure you are happy with the rings and make sure they fit perfectly. We also offer a complimentary yearly ultrasonic clean and gem check for the life of the piece.
Contact us to start the process or ask any questions!