There are moments in life when generic just won't do. Whether it's your engagement, a milestone birthday or a special celebration, you can make it even more special by working with a custom jewellery designer to create a piece that's one of a kind. Many people are nervous to approach a designer because they don't understand how the process will work. They're also worried it will cost the earth (it won't). If you'd love a ring, necklace or earrings created that are just for you (or a loved one), have a read through this quick explainer, then get in touch with our team. We're based in Sydney and on the NSW South Coast.
Six steps to work with a custom jewellery designer
The first thing you need to do is figure out how much you want to spend. While the cost of working with a custom jewellery designer may be slightly higher than buying ready-made, it can be surprisingly affordable as well. We strive to work to most budgets and can adjust the design, gems and metal suitably. Remodelling your own gold or using your own gems is also possible once we've assessed them for use. You can always reach out to us to discuss your budget. We can share a ballpark figure based on what you're after.
Creating a bespoke piece of jewellery takes time because you need to go through the design and fabrication process. Most bespoke commissions usually take around 8 to 12 weeks but this can vary with each piece and depends on how fast the design and gems are decided on etc. The earlier you contact us the better. Take if from us: always allow more time than you assume you will need when you commission a bespoke piece of jewellery so you can work through the design process without feeling rushed.
While we're here to help through every step of the creative process, it's still a smart idea to do some research before your design appointment. Pinterest and Google image search are great places to start as they will give you plenty of visual inspiration. Of course if you're buying for someone else, you should take their style and preferences into account. Maybe drop a few casual questions here or there to see what you can figure out. Speak to their friends and family to see what they suggest. Some things to think about when you research engagement ring and other jewellery designs online are; which metal you'd like (gold, silver, platinum), which gem colour/type, engraving, a possible theme/style (eg. Art Deco, organic), setting style, to name a few. You might also like to think about symbolism. For instance, if your partner likes the ocean you can represent it more subtly in the piece with blue or green stones rather than engraving waves onto metal. Feel free to bring pictures or sketches to your appointment so you can show rather than tell. This makes the process easier for everyone.
Make an appointment with your custom jewellery designer
Once you have an idea of what you want, come in and see someone on the team at our Sydney workshop, at our location on the NSW South Coast, or organise a Zoom catch up from anywhere in Australia. You and our custom jewellery designers will work through your ideas and get them all down on paper. You will have the chance to share your ideas and listen to the designer's suggestions. During this process, we can chat about which stones are available to match your taste as well as your budget. At Zoe Pook Jewellery, we are proud to ethically source all our materials, so make sure to ask exactly where your stones and metals are coming from.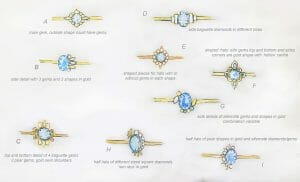 Get your quote and pay a deposit
An initial estimated quote is given to you and a 25% deposit gets us started on designs and gem hunting. Once the design work is done and signed off, you'll receive a final quote and associated production time. Another 25% is due to get us started on making the piece.
Collect your beautiful custom jewellery
We'll be in touch just before the piece is almost finished to finalise the payment and organise collection or post. You can collect it from Sydney or the south coast location, or we can send it with insurance, tracking and careful packaging. It will come in a beautifully presented box with information about your bespoke jewellery piece. You'll be the proud owner of a unique, custom-designed and made piece of jewellery, ready to enjoy or give to someone you love.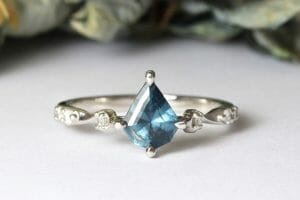 Ready to work with a custom jewellery designer in Sydney or on the NSW South Coast? Reach out to Zoe Pook Jewellery today.